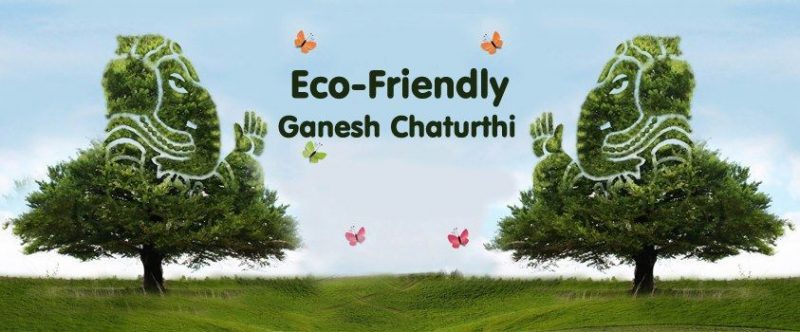 Wisdom develops mental purity and strength and helps man to overcome obstacles and reach the goal . "By mere prayer to Ganesha , one cannot achieve anything. By imbibing (listening ,pondering and assimilating )the qualities for which Ganesh Chaturthi stands for, one can make one's life divine!"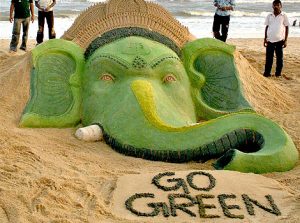 India celebrates the birth day of the Vigna Harta, "Ganesh Chaturthi" with profound enthusiasm and the event lasts for about ten days. Most popular in Maharashtra, during the festival, colourful pandals (temporary shrines) are setup, our deity is infused into the idols and murtis.
The irony lies in the fact that the idols that we worship to seek the blessings for a good present and better future are instead presenting harsh environmental effects.
The idols made during Ganesh Chaturthi are usually made out of Plaster of Paris and are decorated with non-biodegradable paint. Also plastic tapes, plastic sheets, thermocol materials etc are used to decorate the sculpture and put other accessories. From the past few years worshipers are paying attention to the environmental conscious face Ganesh Chaturthi celebration. Visarjan that is a part of entire ritual done during Ganesh Chaturthi i.e. immersion of Ganesh Idols in lakes, rivers or sea have raised many eyebrows due to the water pollution caused while performing it. A lot of awareness has been raised about the same. Ganesh idols made up of this hemihydrated calcium sulphate takes several months to totally dissolve into water.
Protecting environment is also an important part of Dharma. Our traditional communities set a clear example how environment did not have a different sphere from their common day lifestyles. We see that many rural Indian communities have encouraged strong communal practices to protect local ecosystems such as forests and especially water sources during Ganesh Chaturthi festive season. So why not on this Ganesh Chaturthi you unveil an eco-friendly Ganesha idols at your home? "Digambar Manikar and his son, Rajesh, have made a one-of-its-kind 22-foot eco-friendly Ganesha weighing 150kg using 30,000 tissue papers at Vile Parle (East)". Eco-friendly Ganesha idols are being made using recycled tissue papers, newspapers, bamboo husks, straws etc. and are available in market this Ganesh Chaturthi  This process which uses tissue papers consumes less water in making of eco-friendly Ganesha and only the recycled materials are used. Apart from being fully recyclable, these tissue paper not use any artificial colours, dying agent and not even the harmful chloride bleach. Many artists are taking up this idea of refusing PoP and other chemicals and instead use already available resources to make eco-friendly Ganesha on Ganesh Chaturthi as much as possible.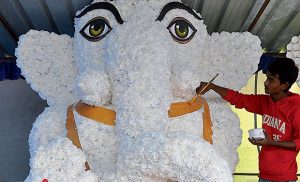 Our company Greenhandle also provides a large variety of products that are eco-friendly in  nature. Best one to mention will be recycled tissue papers, for which you can place order in bulk for making your eco-friendly Ganesha. The recycled tissue paper give no harm to the marine ecology. Hard papers can also be removed(if any) before the eco-friendly Ganesha is immersed in water. Tissue paper gets dissolved in flowing water within one or half-hour and in still water in less than three hours.Tissue paper are made from waste paper pulp released  from industries compared to other materials due to the cellulose in them. The dissolved idols made up of tissues paper merge in the aquatic eco-system without leaving a trace of residual materials in the water bodies.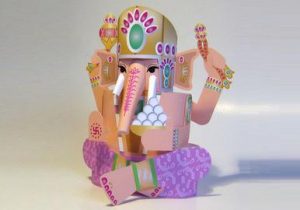 We started making the idols immediately after last year's fest" says a local artist from Mumbai who encourages to celebrate eco-friendly Ganesh Chaturthi. He further adds "Next time, we plan to make double the number of idols we made this year. We want the eco-friendly Ganesha to gain more popularity." So on this vibrant festival let's make lord Ganapati and Mother Earth happy by celebrating eco-friendly Ganesh Chaturthi but most importantly not compromising on the fun and enthusiasm!!