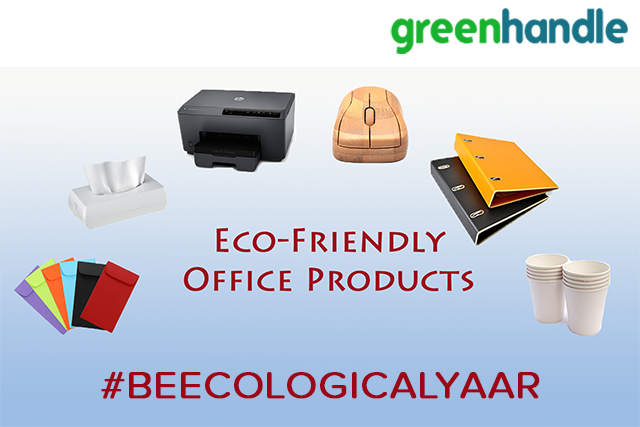 Never thought of how making your office eco-friendly? Now is a good time to start as any. Bringing a nature-friendly lifestyle to your office will not only cut down the humongous wastage that offices tend to produce, it will boost the employees to take the eco-friendly culture back to their homes! Now, that is one good reason to start making your offices environment-friendly. So, how do you go about doing the green thing in your office?
From recycled wood for your tables and chairs to your breakroom tea, you have a plethora of picks for your office. Here are a few products that will avoid the waste and promote the green culture at your office:
Recycled Copy and Tissue paper
Paper is ubiquitous in every office, even ones that pride themselves on their technological planning. Remember, one ton of non-recycled good quality office and printing paper consumes 24 trees! To improve the green cover, try the recycled copy papers that are as good as new, copy paper made from sugarcane waste, etc. that will help prevent piling up the landfills.
Tissue papers, wipes used in the restrooms should be your next point of attack. Go for thin ply, organic or recycled tissues for the break use.
Printers, Inks and Toners
When you go for printers, try to buy good quality all in one machine like ones that can fax, scan, print and Xerox. These machines not only save space but are essential for any functioning office. Look into the power ratings before selecting the model.
Throwing away the toners and cartridges after use not only pollutes the land water but also harms our planet with the toxic ink leftover. The best way to deal with this is to use recyclable toners and cartridges. You can fill them with ink from reputed shops, wherein the print quality from the cartridges is also quite good.
Binders and Envelopes
Bringing the green revolution everywhere in your office? Binders, Files and envelopes made with organic, recycled or natural materials are available in a wide array of sizes and designs. Do away with the plastic folders and bring in the natural binders.
Your employees can go crazy with natural colours on the plain folders, making your files look colourful and unique. Not only will this exercise be fun, but it educates your workers about the importance of recycling.
Tea and Cups
From your WhatsApp messages to emails, we know about the disturbing health issues that arise from drinking hot beverages from plastic cups.  You can either buy metal, glass cups or go for recycled cups. Using recycled plates, natural spoons or trays made from plant waste will surely add to your efforts. These products cost only a few bucks more but will help you create a better living world for your kids.
For teas, you can try the organic teas and coffees that enrich your break and save the world, one drop a time.
Chairs, Mouse and Laptop pads
Mouse pads and Laptop pads made from organic, natural materials that are ergonomic, feel good are necessary for a pain-free office. Chairs made from recycled materials are great for prolonged use. Mouse pads and laptop pads made from recycled materials can be washed and used again. They are 100% recyclable even after you finish with them. So investing in them will be worth it.
There are many products from refillable ballpoint pens, stationeries like recycled paper clips, buckets, garbage bags, boxes and visiting cards. Making your office green takes a lot of commitment. But, now you can get all these items at a discounted price from the online sellers, making this green deal a sweet one.