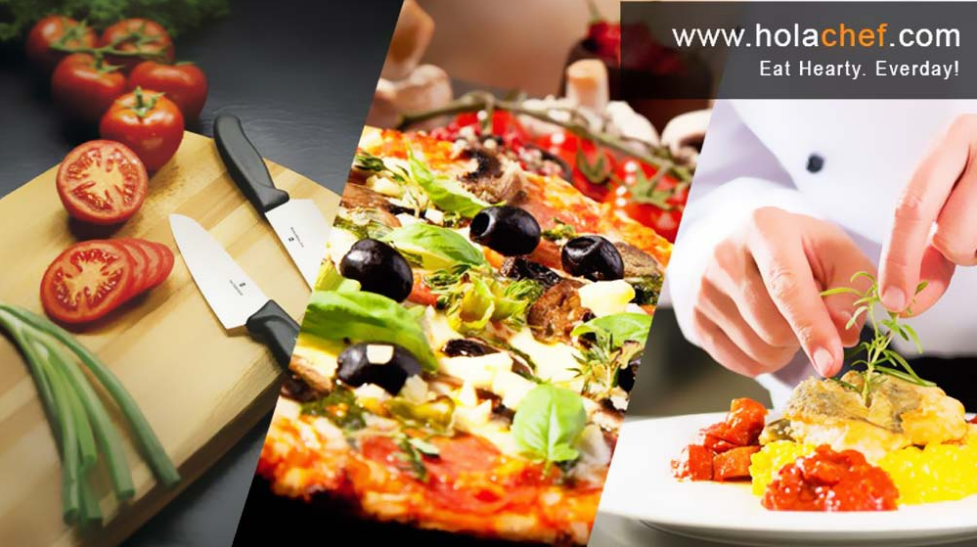 To start with a straight description of HolaChef, it is a fine-dine restaurant but online, in simple words, an online food ordering app. The unique idea in this food ordering app is to bring together all the good chefs and create new delicacies. Their targeted customers comprises of all the crazy foodies out there. And the main concern is to deliver different kind of innovative cuisines.
Since all those foodies get bored visiting the same local restaurants and online apps, HolaChef offers different food items. They have realized the gap between demand and accessibility for fine-dine experiences and led the idea of connecting all the best chefs of the town. According to their website,
'We are a fine-dine restaurant in cloud'
Our experience:
In order to taste their caterings, we ordered a pack of a rice dish. The very first point of triumph was marked by their quick service. The quality was something that you could expect a good franchise to offer. The quantity and the rate were very much rational and level-headed. Their overall service was very much within the brackets of their promises. The food came fresh and hot and this drove our attention towards the packaging. The first thought of the on lookers was that the food looked so pleasing and appealing and also fresh. We ordered a rice dish which came with a semi-solid veg-kebab and some veggies on top of it. It looked exactly what the tag line said, "worth craving for"!
The outer packet that was carrying the entire food was a pure paper material. This paper bag, made up of brown craft paper material, was strong enough to carry everything. Coming to the inner packaging, the rice came in a round container. No doubt HolaChef has one of the best quality food containers we have settled our eyes on. The container was white in color with a bowl shape appearance. It could be reused to store things as it was thick and sturdy enough.
Cutlery: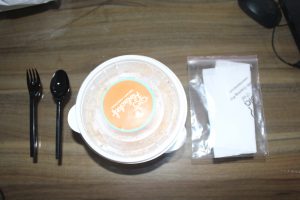 Normally when we order anything, we don't even expect any extra cutlery along with the parcel. When ordering from HolaChef, the cutleries that came along were spoon and fork. Cutlery and tissue is a luxury which every food and hospitality firm should afford. And if they do not, then they are likely to invite scathed remarks on your bad service.
It was made up of thick plastic along with a tissue paper. This made sure that the dinner faces no difficulties while eating. This made the entire experience even more convenient. It landed up HolaChef into the category of those few unique brands from afar.
Our suggestion:
Though HolaChef has maintained their words of offering best quality, unique food items, it wasn't competent according to an eco-friendly point of view. We, as an ecologically working firm would like to suggest HolaChef to replace their replaceable plastics with paper products. This would help HolaChef to put their hands in the contribution towards environment.
Unfortunately, from an eco-friendly point of view, plastics that are used by HolaChef are too harmful to this environment. The plastic food containers could be easily replaced by laminated hard paper containers that can serve similar services.
We normally acknowledge that the carry away cutlery materials are made up of plastics. We, from our side, present an option for to replace these spoons and forks with wooden spoon and forks. These would be more hefty and robust. Also the cutlery came wrapped in a plastic pouch which was not so welcoming. But this is something most of the players in food business do. All we can do is suggest them to replace it.
From the government to experts, paper bag as a sustainable product is still a debatable topic. When we talk in terms of bags, we also have different fabric bags like jute, woven and nonwoven bags. Also Greenhandle has a new unique bag that is a combo product of jute and cotton, Juco. All these bags are more durable and can be kept as an alternate option. And comparing these bags to polythene, these bags are readily chosen.
Even if HolaChef is not much involved with green living thoughts, HolaChef has wisely chosen paper bag. Also, depending on paper bags from the very beginning allows for smooth expansion into plastic banned states. Using paper will definitely reduce the waste contribution by several times over.
Final Result: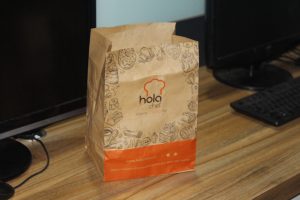 To make an ultimate review, the food was satisfactory. The service was fast and food came hot and fresh. Though we were happy with the entire food service, this plastic product caught our attention. We rate them 4 stars that includes 1 star solely for their paper packaging.