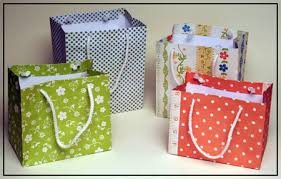 From giant shopping malls to the local supermarkets, you will find your goods being given away in a variety of colourful, decorated, dazzling box bags. Today both the customer and the operator are being quite aware the acute importance of packaging industry to check pollution.
We can learn from our traditional packaging  such as string bags, paper bags, straw, rope baskets which were not only eco friendly but they also saved extra expenses on luxury packaging. Now there is a rebirth of such eco friendly packaging in a new and innovative form of box bags!
There are numerous facts about plastic bags that how they impact our environment:
-Do you know how long does it takes for plastic to decompose? It might take 1,000 to 2,000 years just for it's breakdown. They fill the landfills and destroy the landscape.
-According to an internationally recognised wildlife agency about 1 lakh of sea animals, sea turtles, 1 million sea birds die each year by plastic engulfment. Plastic choke their digestive tract, produce toxins inside the body which is lethal.
-After a plastic bag is cut, machines blast it with plasma, or superheated and charged air. That leads to an atmospheric imbalance.
-Recycling of plastic requires even more energy and water than it's manufacturing. Factories that are involved in this process release noxious gases that in turn cause air pollution.
Plastic bags might seem light weight and easy to carry but because of their this nature they do not stay in landfills but fly far away and get stuck on trees, jam the drains, litter the roadsides and public garden.
A new breakthrough design has made box bags so cheap and so easy to produce, grocery stores, shopping stores, local vendors now couldn't say no.
The new idea of reusable box bags are the best option! They are available in a wide variety, stylish colour and prints, multi shapes and sizes to make your shopping fun than the normal routine task. Such improved designs over the classical paper bags way where manufacturers have tried to make rectangular box bags for larger capacities. Biodegradable wax coating is also done on such bags to make water resistant.
Greenhandle gives you the best combination of getting your own stylish and eco friendly box bags. Our line of fully customizable box bags can be bought wholesale and in bulk, and they make a great profit item. We give you an option to print your company's logo or the emblem of a cause on the box bags. They are a wonderful, eco-friendly way to get exposure for an idea regards work or any social cause. These box bags can be widely used for brand promotional activities or by a non governmental organisation to increase awareness among public. You can find the easy customisation option for the box bags on the Greenhandle product website where you can start from giving the box bag your favourite colour, it can be different on either side of the bag, put a fancy boundary and give you box bag an attractive and crisp look. Also we can help you design your own logo and tag line to put it on the bag wherever you want!  The material used by us to design these box bags is recycled kraft paper. Therefore there is no threat to trees as well! Instead you save a tree if you buy such box bags for shopping your stuff.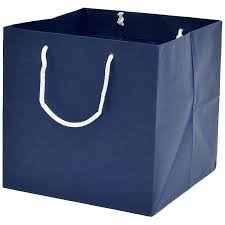 Start today! Time has come to burry the plastic bags and praise the reusable box bags! "It's easy to make the case, why do you have this thing that you use for 10 minutes and it lasts forever, plastic is such threatening asset to the mankind.
A long-term mind set among the communities and this culture of convenience can contribute to huge amounts of environmental protection! Now it is our duty to get in practice and start using box bags today itself!