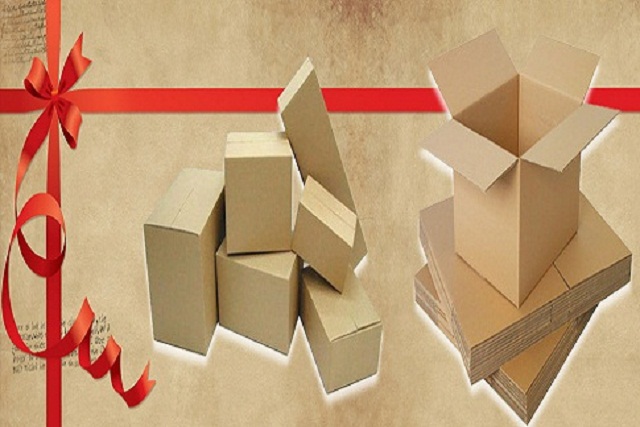 A box is generally a container that can come in all the sizes. It can be either used for a permanent storage purpose or for the temporary purpose of storing items and transporting it from one place to another. Eco-friendly boxes are of many different materials and come in all sizes. Eco-friendly boxes are made for packing goods and materials and include card stock, corrugated fiberboard or paperboard. It depends on the locale, contents, construction and personal choice, to manufacture a box.
Material:
The common materials out of which boxes are made up of are steel, plastics, alloys, cardboards etc. The best out of these would be the one that is made up of paperboards. One such type is a corrugated box. Corrugated boxes are made up of corrugated paperboards. The edge of corrugated box has rows of air columns which makes it suitable for packaging. Corrugated box is usually made up of reasonable brown Kraft paper and is a sandwich between layers of linerboard. Corrugated box is the most highly used type for shipping containers or sometimes for primary packaging. Corrugated box is, in fact, easier to customize, as it carries a good amount of strength. Also, the linerboard could be doubled up or multi-layered to increase the strength. Because of its biodegradable and ecological properties, packaging industries should consider paperboards more.
Paperboard box does not mean they are anywhere benighted. Corrugated box offer similar strength as other material bags. Other good thing about paperboard packaging is that, while we choose it, we know we are choosing a renewable, degradable and reusable material.
Corrugated box itself proves to be perfect for engaging consumers and increasing sales. Within this category of paperboard boxes, every style has unique benefits. It can be said that boxes made out of paper are far better than plastic boxes in terms of being eco-friendly. The most frequently used are boxes for shipping, includes paperboards that is corrugated boxes in it.
Types: 
Right from small chocolate gift box to any huge shipping box, there are several types. Corrugated boxes can be made into any shape and size. Cake and pastry boxes are always manufactured by paperboards. Hardly we encountered any food product we eat outside is given away in plastic boxes. The best as an example would be pizza boxes. Be it Pizza Hut, Dominos or any other small big pizza eatery uses the corrugated box.
Uses:
A Corrugated box that is visually appealing, impressive, tough rigid convey a sense of quality, strength, luxury and is ideal for smaller, or expensive items like jewelry or electronics. Many keep and reuse boxes that are strong and rigid.
There are many uses of paperboard corrugated boxes that is not just limited to storing items, shipping items in mailing boxes, colorful paperboard mailing corrugated box can be used as gift packaging. Throughout the years, paper corrugated box has evolved, but earlier it used to be just a plain brown box. Although you can get these paperboard corrugated boxes in different sizes and shapes, they were plain, brown and unattractive till very late. But in recent few years, paperboard boxes have become more colorful and attractive.
What we at Green Handle do
At Greenhandle, we provide the environmental conscious customized corrugated paper box, offering various eco-friendly options for packaging boxes. We make use of the most eco-friendly paper available for making the boxes. We offer cost-effective and environmentally friendly paper boxes. We are pleased to offer you a wide variety of eco-friendly packaging materials, packaging supplies to protect your stuff with utmost care. It is clear that choosing to use this type of packaging provides you with many benefits including the following:
Decrease Carbon Footprint
One of the best benefits of eco-friendly packaging box is in context to protecting our environment. The eco-friendly box is usually made from biodegradable, recycled material which reduces the waste of natural resources for production. The manufacturing process tends to be more efficient, further reducing precious resources and minimizing the negative impact businesses have on the environment.
Biodegradable
Eco-friendly box obviously reduces your carbon footprint and environmental impact of green packaging has positive long-term effects. These alternative sustainable materials are biodegradable and recyclable, making their impact on the environment minimal.
Improve Brand Image
An eco-friendly box always improves your brand image. When your clients get to know that your company/brand is environment conscious and use sustainable resources, they automatically realize that you not only care about the ecosystem but also that you are a responsible company. This improved brand image will lead to increase in sales and further your company's profits.
At Greenhandle, we are equipped to professionally handle a wide variety of materials. Standard types of coated, uncoated paperboard, and certain corrugated stock are easily converted as per the desires. We can be a one-stop-shop for all your packaging needs. We customize our boxes with quality stock. We perform offset printing onsite with professional printing and prepress equipment. Your customized box will be prepared using the required techniques. We have a variety of folding, gluing and wrapping options for you to choose from. In addition to a complete line of boxes, we also offer design and sample making, pads and strips, vinyl packaging, litho lamination, window patching, corrugated packaging, foil stamping, embossing, decorative bands, tissue/foam insert, and printed posters. Green handle plays a role of a bridge while you decide to promote your brand in public. We let you tell your business story through your custom logo. Green Handle helps you to create an elegant look by customizing your logo, with matte or metallic foil on the boxes which is affordable and fast. The products we deliver are environmentally responsible, top quality and competitively priced.