There is no doubt in the fact that the golden fiber industry in West Bengal is one of the oldest industries and had led to high investments and growth of the vast and thriving city from the late 19th century and till the present it contributes to high revenue due to its ultimate exporter. Another miracle fiber that is cotton is abundantly produced in the western parts of India. This polymer becomes terribly strong when multiple fibers are curled and twisted together and carry many traditional and heritage values of India. But if we fast-forward the time to present we will find that these traditional materials face a tough competition from the other alternative non biodegradable materials like polyester and plastics. We all are quite aware of the fact that the manufacture of such synthetic fibers add tones of carbon emissions into the air annually. Most of the plastic bags take over 400 years to biodegrade or some facts indicate that they might take1000 years just to break down.
Thus the smart, super versatile and increasingly popular option that we have come up with in this modernized era is a new ecological fiber that is called as "Juco".
We get juco material by the blend of the former two regular fibers in the ratio of jute is to cotton as 3:1. This versatile fibre is used for making a variety of goods like shopping juco bags, wine-bottle bags, fashion bags etc. Juco bag naturally have a beige color and is starched for added strength and shape. Despite being fully eco friendly the making of juco bag has low pesticides and fertilizers need. Juco bag serve a variety of benefits over ordinary jute and cotton bags as the weaving pattern is different from the normal material.  Juco bag is tightly weaved that brings together the durability of jute and smooth and fine texture of cotton. Hence now your eco-friendly juco bag shall have a longer life span as well! Such fine material of juco bag, provides a clean and perfect surface for various types of printing like the silk screen, process and transfer. Juco bag can easily be dyed into multiple matching color for attractive looks. Juco bag can also have an internal lamination that provides structure and waterproofing. Isn't this the most customizable and efficient product that it helps you to reduce your carbon footprint to almost zero?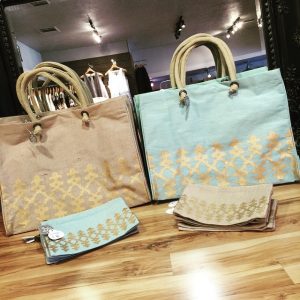 Juco bag is highly durable. Did you know that if a reusable bag is once used per week just four or five of have the potential to replace 520 plastic bags a year!! In-fact a study reveals that such juco bag or juco pouch and other bags made up of other reusable materials are only used 51 times before being thrown away! While juco bag needs to be used for over 100 times before discarding! Being highly durable and reusable, juco bag becomes very reasonable to pocket. Hence this is our heartily responsibility to accept juco bag and bring them in our daily routine to move our step forward for environmental conservation. Our company, Greenhandle is fortunate to work in this field bringing you juco bag which are very versatile and can be used for make-up and toiletries as well. As they are made out of juco, inside lining is made up of cotton whereas outer material is pure jute or jut mixed with cotton.
The reckless manufacture of plastic bags is killing our environment.
Whereas also it is one of the major factor that leads to poor working conditions and low wages  that has led to a crippling shortage of labor and hence further unemployment. From east to west of India, farming of jute and cotton provides livelihood to thousands of farmers and is a means of regular wages to thousands of other labors including homemaker females. Hence, if we take a deeper look into this matter, the studies gives us a strong sense that promoting a market of juco bag has great importance in the local communities and sustainability outcomes. Along with taking up firm step towards environment protection India can go far ahead rapidly with such agro-based industries which can also lead us to appreciate the growing socio economic part of our economy. Land provides enough to satisfy every man's need now its our duty to wisely use the resources to sustain our living in a healthy environment!