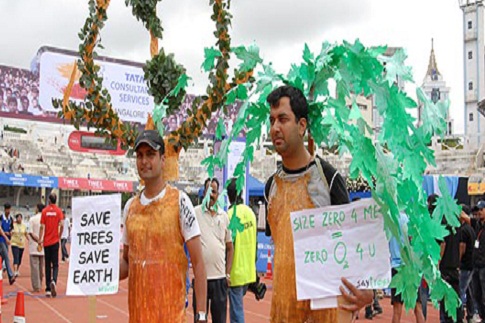 We all know how our natural resources are depleting each day and people are becoming apathetic towards the environment. If you really think environment is less important than the economy, just try to hold your breath while counting your money. The condition has come where you don't just have to protect nature but we need to create a world where environment doesn't needs any protection. While many amongst us are worried about it but do not end up providing any practical help, on the other side, there are many who are responsibly taking big steps in order to help the nation stay green.
A software engineer by profession, always felt bad when he use to see any tree being brought down. As his heart belongs to environment, the drastic change of environment affected him to the level that he decided to start an initiative that will help in increasing the green cover. A company that deals with plantation of more trees and maintenance of it, SayTrees, was established.
SayTrees is a professionally run group of ordinary people, extraordinarily focused to protect the environment not just by themselves, but also by enlightening others towards the importance of environment conservation and making them to participate in tree-plantation campaigns.  It started off as a weekend pursuit in 2007 . The group consists of passionate nature lovers, who juggle with their corporate jobs during the week and with their love for trees over the weekends. SayTrees spearheads a variety of initiatives including research, education, sensitisation and advocacy around the importance of environmental preservation and tree plantation. The group thrives on its vast volunteer base that runs into thousands, from young children to busy professionals, housewives and retired citizens. They are pro-actively engage in identifying potential areas for plantation, keeping in mind the biodiversity and ecological surrounding of the local area.
Many measures are taken during plantation which ensures high survival rate. For example, choosing a place where we know saplings are safe from human beings and animals. Then, they plant a huge saplings which are 8-12 feet tall and 2-3 years old. After plantation they water the saplings when needed and, whenever it is possible, visit the plantation site to make sure that the saplings are surviving.
Kapil Sharma, one of the founders of "SayTrees", shares his passion and journey. He  started alone in 2007 and in 2010, he came across equally passionate people who were doing similar things. So they got together, and now they have around five people who are very much dedicated to the cause. Also, there are many volunteers who always join in the plantations. A software engineer by profession, his heart belonged to the environment. He is an inspiration for the youth, who struggles to create a balance between the real and virtual worlds, by connecting them to nature and reigniting its importance.
He has been living in Bangalore for years and within the span of these years, he encountered a drastic change in Bangalore's climatic condition owing to a reduction in the green cover. Bangalore, which is fondly called "The city of Gardens" inspired fables and verses alike. With an unbelievably pleasant weather throughout the year, it was a green haven for decades. While concrete jungles started birthing, trees were felled at a pace that worried the old timers and tree lovers.
Initially, he started with few saplings and then  started approaching Bruhat Bengaluru Mahanagara Palike [BBMP] (Greater Bangalore Municipal Corporation) officers to get more information on places where we can plant saplings. He also started approaching various companies and organizations that wanted to do something for the nature and this has been continuing since then. Now, Kapil is being approached by many companies each year and numbers of trees that are planted have also increased annually. The major plantation is done during monsoon, from May till October. This is the best time for plantation.
SayTrees tries to promote events in unique ways, which makes people to join. Last year he wanted to do a plantation in Gunjurpalya forest.  It's a little far from the center of the city, and he had doubts about whether people would join the event or not. So, he first went to see the place and captured the location. And Since he has an eye for photography, he took some really nice pictures which he then started spreading on Facebook to all photography lovers, asking them to attend the event, take pictures and plant saplings as well.
He  also shared another picture, where he asked parents to get their kids to this forest and let them feel nature at its best. A lot of kids joined us along with their parents in that event
Achievements and issues:
Though it started off as a weekend pursuit in 2007 now it does more than 50 tree plantation drives in 4 months of monsoon. Today, SayTrees organizes tree plantations and drives various initiatives across several Indian cities.
The biggest challenge is getting permission to plant the saplings in any premises and then, getting the pits done for the saplings. Many BBMP officers help us in suggesting the place and the saplings. SayTrees has also organized two such plantation parties on birthdays, where people were invited to plant saplings.
Projects
They have  planted saplings at Hindustan Petroleum, and also at  Capgemini. I also got a call from Mcafee today for plantation, so hopefully that will be on our list too. They have attended seminars in various colleges and gave presentation in colleges like SIBM, Welingkar etc. I also participated in a marathon for two years wearing a tree bark costume.
SayTrees aims an eye to sensitize and empower people to give back to nature and live in an environment conducive to their health and well-being. For more than seven years, they have worked untiringly with individuals and corporate teams alike to help change the landscape in Bangalore. We take pride in having fostered a buzzing community of tree lovers who continue to inspire and induct so many more in their fold. This is just the beginning of a revolution. Their long term plans entail taking tree plantation drives to more number of cities and inducting many more tree enthusiasts, particularly corporate teams, to be able to amplify both scale and impact of our efforts. A simple idea of planting trees can turn out to be such a big help nature. The concept our Prime Minister introduced, "zero defect in production with no adverse effect on the environment", should be kept in mind by any such startups or big companies.