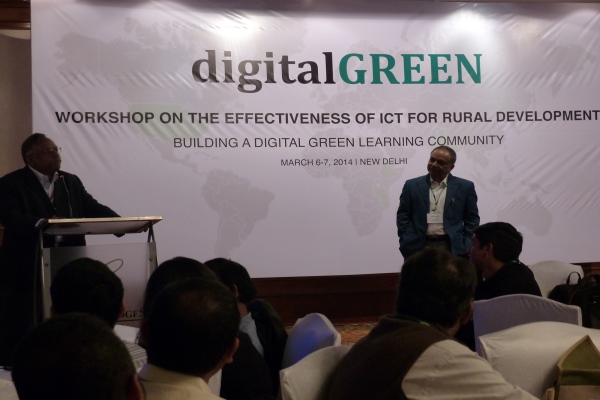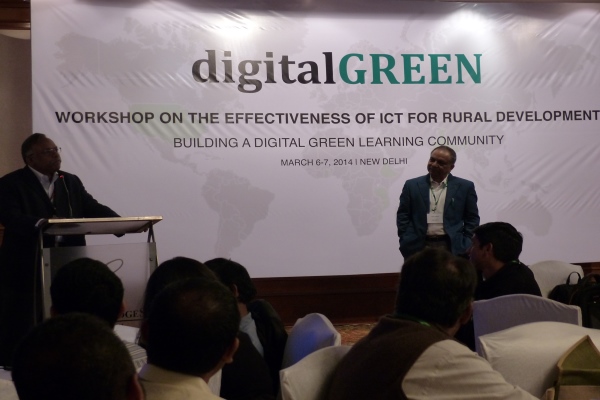 If you think that the nation and its people have turned self-centred with the time, it's not true. There are people and organizations working for the improvement
of humankind where the fortune is shining less. Startups coming up with such ideas, somewhere makes us worry less about the crucial empowerments. One such set
up that came with a vision to make the world where all the individuals live a life of dignity is, Digital Green.
In 2006, Rikin Gandhi and his colleagues framed a project in Microsoft Research India's Technology for Emerging Markets. This later turned up into an
independent NGO, in the year 2008. They clearly mention everywhere that Digital green is a not-for-profit organization that makes them decently considerable.
What is it
It is an independent non-governmental organization that aims at training farmers to make and shows short videos, where they record their problems, shares solutions and highlights success stories. This helps them to amplify the effectiveness of development efforts around the world to affect sustained, social change. With the help of technology, they aim to empower rural communities. Digital green engages with and empowers rural communities to produce participatory localized videos, leveraging pre-existing group structures to disseminate these videos through human mediation. These videos are of the community, by the community, and for the community.
In an effort to address India's public health needs, their health pilots within the country focus on maternal, newborn and child health as well as hygiene and sanitation practices. In 2012, they partnered with the USAID-funded Strengthening Partnerships, Results and Innovations in Nutrition Globally (SPRING)consortium to improve maternal infant young child nutrition (MIYCN) practices among pregnant and lactating women. Implemented by VARRAT in the Keonjhar district of Odisha. During this phase of the pilot, 10 videos were produced and screened on the 'First Thousand Days' to self-help groups (SHGs), which were the existing audience of videos on agriculture. Pregnant and lactating women within these SHGs were their primary target group for the health and nutrition videos, whereas others in the groups were tracked as 'promoters', those who could not themselves adopt the practices being shown, but could share this information further to other women in the community.
Digital green is not just limited within Indian borders. They use an innovative digital platform for community engagement to improve lives of rural communities across South Asia and Sub-Saharan Africa.
To test the effectiveness of our approach in new geographies within Sub-Saharan Africa, they began working in East Africa in Ethiopia in 2012. They have their on-going project in Ethiopia and have reached more than 5,500 households through agriculture-focused partnerships.
Not just in Ethiopia but they have created their impacts in different parts of Africa as well. Till date, they have reached 6,400 households through our agriculture-focused partnerships and programs in Africa and aim to reach another 14,000 households in 2014 through agriculture and health-focused projects.
In a technically backward country like Ghana, Digital Green have reached 2,000 households through our agriculture-focused partnerships. This itself shows their dedication and hunger towards the improvement of human lives.
The organization engages over 150,000 farmers (over 70% women) in more than 2,000 villages.
Working: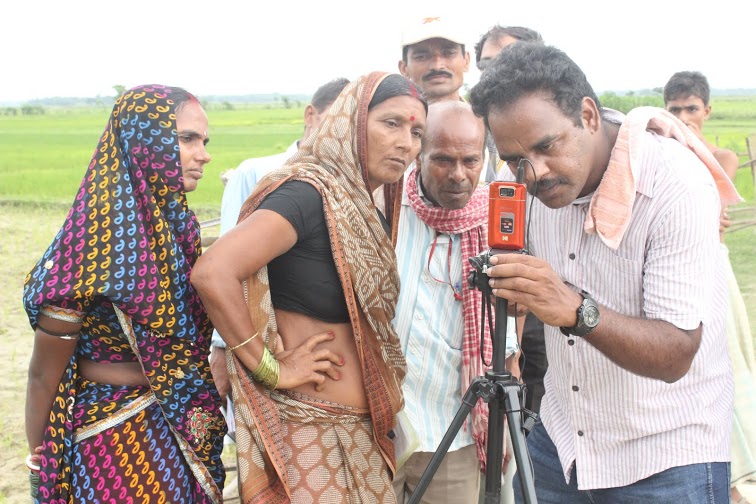 Digital green works with undertaking the values like humility, excellence, accountability, empathy, and integrity. Unlike some systems that expect information or communication technology alone to deliver useful knowledge to farmers, Digital Green works with existing, people-based extension systems and aims to amplify their effectiveness. While video provides a point of focus, it is people and social dynamics that ultimately make Digital Green work. Local social networks are tapped to connect farmers with experts; the thrill of appearing "on TV" motivates farmers and homophily is exploited to minimize the distance between teacher and
learner.
The major unique modules of the Digital Green on which it works significantly includes:
(1) a participatory process for local video production,
(2) a human-mediated instruction model for video dissemination and training,
(3) a hardware and software technology platform for exchanging data in areas with limited Internet and electrical grid connectivity, and
(4) an iterative model to progressively better address the needs and interests of the community with analytical tools and interactive phone-based feedback channels.
Progress story:
Digital green started with a mission and are working with extreme focus. Their main mission is an innovative technology with global development efforts to improve
human well-being. In 2013, it received a Global Impact Award of  Rs.3 crore   and also Manthan award in 2012. Rikin Gandhi, the Chief Executive Officer of Digital Green, was awarded IFA Norman Borlaug Award, 2012 by the International fertilizer Industry Association.
Since 2008, we have reached over 1 million individuals across 13,592 villages through 4,426 videos, which showcase and demonstrate best practices. As many as 574,222 of the viewers have adopted one or more of the best practices promoted through these videos.
They have successfully improved lives of more than 640,000 community members in India and Sub-Saharan Africa (70% of them women).
Digital Green has also developed two social online games, Wonder Village and Farmer Book. Through these games, players set up a simulated village economy and have opportunities to relate with the actual farmers that the organization works within the field. Players are placed in a resource-constrained setting and pursue quests like setting up small farms of paddy and maize and supplying raw materials to farmers' markets. The game allows users to play for free and allows users to purchase virtual currency to advance more quickly.
Partnership with Hope for Future Generations
In addition to this Digital green partnered with Hope for Future Generations(HFFG) to implement a pilot project to promote key sexual and reproductive health rights and maternal, neonatal and child health practices in a district of the Central Region. This pilot seeks to layer the Digital Green approach with existing social groups. This collaboration will not only target direct audiences such as pregnant and lactating women, but also key household decision-makers such as husbands and mother-in-laws.
Conclusion
These  locally made  videos can  be a low-cost, sustainable strategy for health and nutrition. These innovative and thoughtful startups can help enlightening the lives of many across the world. We feel proud that such ideas are taken up and implemented successfully by Indians which are serving across the borders.